---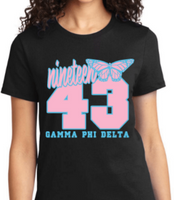 Gamma Phi Delta 1943 Tshirt:
* Black Tee.
* GPD 1943 Design with Butterfly.
* Cotton/Cotton Blend Tee.
* Sizes available - S to 3XL.
This item is usually shipped via USPS within 5 - 7 business days. However, this may be delayed depending on the number of incoming orders at a particular time, especially during the holidays. 
Please email before ordering if you need your items with a quick turnaround date to ensure we can meet your request.